What Are the Black Specks in My Dog's Eye?
by Tom Ryan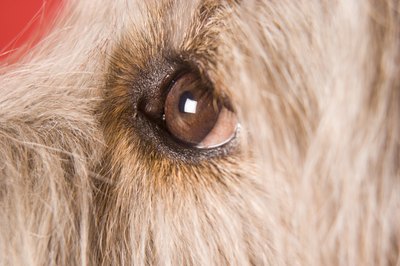 If your dog has black specks in his eye and you determine that it isn't simply debris, like dirt, he may have a degenerative condition caused by aging or an ocular disease. If you notice an irregularity like this, you should take your dog to the veterinarian for a full checkup and an official diagnosis. That way, you can be equipped with the medication that can alleviate your pet's discomfort and treat his symptoms.
Possible Explanations
Black specks in your dog's eye, particularly in the colored iris, may indicate a degenerative condition called iris atrophy. This may be caused by old age, inflammation or even a condition, like glaucoma. This condition can be treated but not cured, and it isn't the only possible explanation for the specks in your dog's eye -- they also could be a simple genetic abnormality, as some dogs are born with abnormalities, like multiple pupils. Only your veterinarian can determine the cause and the proper course of treatment, if any.
Photo Credits
BananaStock/BananaStock/Getty Images