How to Build Indoor & Outdoor Runs
by James Roberts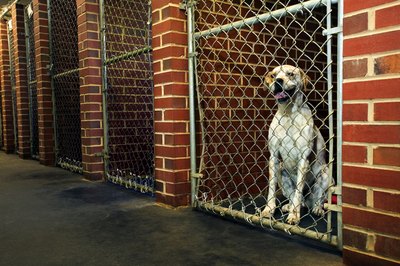 Indoor and outdoor runs are controlled cage extensions that run inside and outside the wall of the home or kennel. They allow the animals to move freely between environments without restriction. The runs can be constructed of wood and chicken wire on the economical side, or steel poles and chain-link fencing on a grander scale. There is typically a vertical piece of heavy, split vinyl or rubber sheeting at the wall of the structure to provide an air gasket. Some kennels or homes have hard-surface doors at the wall of the structure that can be lowered during inclement weather.
Step

1
Measure, mark and use a reciprocating saw to cut a 30-by-30-inch opening in the wall at ground level, where the run is to extend outdoors. Frame the edges of both sides to match their surfaces.
Step

2
Measure and cut a 34-by-30-inch piece of marine vinyl sheeting. Fit it into the center of the width of the opening and staple it into place. Use a straightedge and utility knife to cut a slit in the vinyl from the bottom edge to within 1 inch of the top edge.
Step

3
Measure and use a post-hole digger to dig a pair of 10-inch holes, 18 inches deep at 6 feet from outside of the wall and dig another pair touching the outside of the wall. Make the holes 5 feet apart. Measure and cut four 2-by-82-inch pieces of galvanized steel pipe. Sink, plumb and immobilize the four pipes in the bottoms of the four holes. Mix bagged concrete mix in a mortar trough with a hoe. Pour concrete in the holes to ground level. Allow the concrete to cure for four days.
Step

4
Measure and use wire cutters to cut two 72-by-60-inch pieces of chain-link fencing fabric. Attach 5-foot stretchers, pull them tight and bolt them into place as the sides of the run.
Step

5
Measure and use a power hacksaw to cut two 1 1/2-by-72-inch top rails and bolt them to the stretched fabric.
Step

6
Hang a lockable 5-by-5-foot chain-link gate enclosing the two sides of the run.
Step

7
Repeat the run construction procedure on the inside of the structure.
Items You Will Need
Tape measure
Framing square
Permanent marker
Reciprocating saw
Circular saw
Marine-grade vinyl sheeting
Stapler
Straightedge
Utility knife
Post-hole digger
2-inch galvanized steel pipe
Power hacksaw
Plumb line
Premixed bagged concrete
Concrete trough
Hoe
60-inch chain-link fencing fabric
Wire cutters
60-inch chain-link stretcher bars
Socket set
1 1/2-inch chain-link top-rail pipe
5-by-5-foot hinged chain-link gate
Tip
Alter the materials and/or dimensions of the indoor run to match the environment.
Warning
Wear hearing and eye protection.
References
"Kennel Building and Management"; Mario Migliorini; 1987
Photo Credits
Thinkstock/Comstock/Getty Images