How to Cook Pork & Oats Dog Food
by Susan Dorling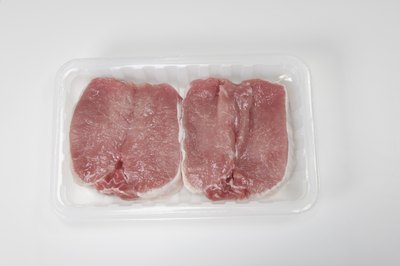 Pork has more of the essential amino acids that build muscle mass and aid tissue repair in dogs than any other source of protein. Lean pork is also the easiest meat to digest, and it's hypoallergenic. For a yummy dinner your best friend will adore, pair roasted pork with oats.
Step

1
Roast the pork in a 325-degree Fahrenheit oven until done and juices run clear, about 40 minutes to an hour. Remove the meat from the oven and place it on a platter. Cut the roasted pork into 1-inch or bite-sized chunks and set aside to cool.
Step

2
Bring 4 cups of water to a boil. Add the oats, cover, and turn off the heat. Let the oats cook in the hot water for about 10 minutes or until soft. While still warm, mix in the eggs. Set aside to cool completely.
Step

3
Peel and quarter a large sweet potato or yam. Cut fresh green beans into small pieces. Place the veggies in a saucepan, cover with water and cook for about 20 minutes, or until tender. Remove the vegetables from the heat and drain.
Step

4
Mash the sweet potato or yam, then place the vegetables in your dog's bowl. Toss in the chunks of pork. Pour the oatmeal over top of the veggies and pork. Stir gently to incorporate the ingredients, and serve.