How to Cut Dog Scarfs
by Mary Lougee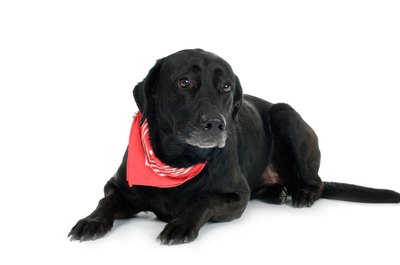 Making a dog scarf is a quick and easy project to coordinate with your pooch's wardrobe or to dress him up for any occasion. Dog scarves tie around your pet's neck in a bandanna fashion to stay secure on him. Cutting a dog scarf with pinking shears is a no-sew method that doesn't require thread, needles or a sewing machine.
Step

1
Wrap a cloth measuring tape around your dog's neck to measure his scarf size in the area where he wears a collar.
Step

2
Add 6 inches to the measurement to allow ample cloth to tie the scarf in a bandanna style.
Step

3
Lay cotton fabric facedown on a table. Mark the fabric on the reverse side with a fabric marker in a square that is the same size as the neck measurement plus 6 inches. For example, if your pet's neck measures 10 inches, mark a 16-inch square on the fabric.
Step

4
Cut the square shape out of the fabric with pinking shears.
Step

5
Fold two opposing corners of the square together to form a triangle. Iron along the seam to form a crease. Open the triangle and cut along the crease with pinking shears. This produces two identical triangle pet scarves.