Dog Treat Recipe Made With Brown Rice and Flour
by Sandy Vigil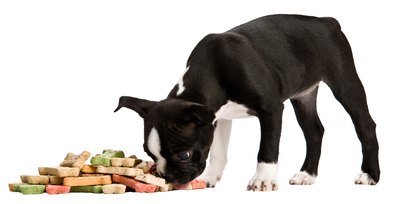 There are a number of reasons to make dog treats yourself at home. You control the quality of the ingredients, there are no preservatives and you are able adjust for your pet's taste preferences, size and health issues. Experiment by switching out ingredients to change the flavor and see which combination is your dog's favorite. These tasty treats are easy to make and will keep your pup coming back for more.
Step

1
Preheat oven to 350 degrees. Sift together 2 cups of oat flour and the baking powder in a medium bowl and set aside.
Step

2
Drain the liquid from the canned salmon and measure out 1/2 cup. Set aside.
Step

3
Put the canola oil and egg in a medium bowl and mix well with a stick blender.
Step

4
Add the salmon, carrot, celery and brown rice to the raw egg and oil mixture in the medium bowl and blend well. Transfer the mixture to the large bowl.
Step

5
Stir the oat flour and baking powder mixture into the salmon, carrot, celery, brown rice, egg and oil mixture.
Step

6
When the dry ingredients and wet ingredients are well-mixed, sprinkle in the remaining cup of oat flour a little at a time. Stir after each addition of flour until the mixture turns into a stiff dough. The amount of flour you use depends on how moist the salmon, carrots and rice are.
Step

7
Dump the dough onto a well-floured surface or pastry cloth and roll until it's 3/8 inch thick. Use the knife to cut desired shapes or use dog cookie cutters to make shapes.
Step

8
Place the shapes on a cookie sheet and bake for 30 minutes or until golden brown.