Do Dogs Lift Their Legs to Urinate After Being Neutered?
by Tom Ryan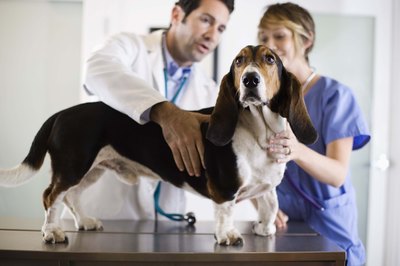 Neutering changes a dog's hormones and his related behavioral traits, like aggression and sexual behavior. It does not, however, change his nonhormonal habits, like lifting his leg to urinate. Leg-lifting is a trait deeply ingrained in a male dog's instincts, and whether he already does it or is neutered before he starts, he's liable to lift his leg to urinate just like intact dogs do.
Post-Neuter Urinating
A male dog starts lifting his leg to urinate when he's about 1 year old, whether or not he has been neutered. He does this so that he can more easily urinate on vertical surfaces, spreading his scent and marking territory. While an intact male typically marks more often than a neutered male -- he's motivated by hormones to spread his scent far and wide -- neutered dogs pick up the habit instinctively. This is why a dog may urinate more than once on a single trip outside -- he's saving his urine so he can distribute it throughout the neighborhood.
Photo Credits
Jupiterimages/Brand X Pictures/Getty Images