Easy to Bake Dog Treat With Bacon & Cheese
by Susan Dorling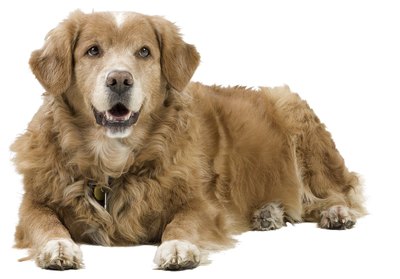 Mmm...the aroma of bacon and cheese wafting through your kitchen is reason enough to bake these mouth-watering treats for your dog. Packed full of natural, wholesome ingredients, Savory Club Crunchies deliver a powerful portion of protein, fiber, carbs and antioxidants, and a yummy flavor your best friend will love.
Step

1
Preheat the oven to 350 degrees Fahrenheit. Line the baking sheet with parchment paper or aluminum foil for easy clean-up. Fry the bacon slices until crispy.
Step

2
Grind the bacon in a food processor to a fine consistency. Combine all ingredients in a large bowl and mix thoroughly until a dough forms. Roll the dough out on a lightly floured surface to 1/4-inch thickness.
Step

3
Cut the dough into squares or other shapes with the pizza cutter or cookie cutter. Place treats close together on the baking sheet. Bake for 20 to 25 minutes or until golden brown. Remove treats from the oven and let cool completely. Store in an airtight container in the refrigerator for up to one week.