An Easy-to-Make Fleece Coat for Dogs
by Laure Justice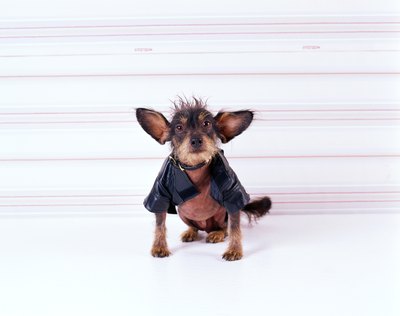 Craft an easy to make fleece coat, with almost no sewing, to keep your favorite dog warm. Use polar fleece because you do not need to finish the raw edges. This is because polar fleece does not fray. The only sewing you have to do for these simple dog jackets is when you attach the hook and loop tape.
Start-to-Finish Fleece Dog Coat
Step

1
Measure from your dog's collar to the base of its tail to determine the pattern size you need. If your dog is small, a baby bib the same length you just measured makes a good pattern. If you have a larger dog, get a dog jacket pattern that is labeled easy, based on your dog's measurements.
Step

2
Spread out your polar fleece in a single layer and put your pattern on top of it. Pin the pattern to the fabric. Use the scissors to cut out your bib-shaped dog coat. Remove the pins. Cut two 1-foot long by 2-inch wide rectangles of the fleece for under-belly straps.
Step

3
Wrap the coat around your dog and overlap the neck flaps so it is a touch more loose than your dog's collar. Use the tailor's chalk to mark the overlapped places. Mark the spot on the coat where the base of your dog's ribs rest so you know where to attach the under-belly straps.
Step

4
Put the under-belly straps on the under side of the fleece, right where you marked the fleece, and sew the straps to the coat using a wide zigzag stitch. Wrap the coat around your dog again and overlap the straps below your dog's belly. Pinch the ends of the straps together and mark the spot where they meet in the center of your dog's belly.
Step

5
Measure out 3 inches from the marked spots on the straps and cut off the excess strap.
Step

6
Put the coat right side up on the table. Cut the hook and loop tape in half so you have two 3-inch long strips. Put the hook side face up on the left under-belly strap and the end of the left side of the neck strap. Sew the hook tape in place, making sure the zigzags go over the tape's stiff cut edge.
Step

7
Put the coat wrong side up on the table and then put the loop side of the tape on top of the remaining under-belly strap and the end of the other neck strap. Sew all the way around the two pieces of loop tape. Clip off the loose threads before your dog wears his new coat.