Homemade Pumpkin & Brewer's Yeast Dog Treats
by Susan Dorling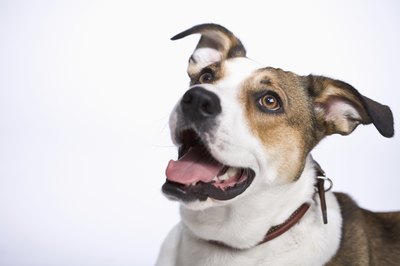 The centerpiece of Halloween and fall celebrations, the mighty pumpkin is a super-nutritious and delicious veggie that dogs love. Packed with potassium and beta carotene, an antioxidant, it is the main ingredient in these Pumpkin Spice Tailwaggers. Featuring a rich blend of nutrients like brewer's yeast and lecithin, these crunchy goodies rock.
Step

1
Preheat the oven to 350 degrees Fahrenheit. Line the baking sheet with aluminum foil or parchment paper for easy clean-up. Crack the egg into the medium mixing bowl. Rinse and dry the shell. Grind the egg shell in the food processor or a grinder. Add the powdered egg shell to the large mixing bowl.
Step

2
Combine flours, spices, lecithin and brewer's yeast with the powdered egg shell in the large bowl and mix well to incorporate. Combine the applesauce, pumpkin and water with the egg in the medium bowl and mix well. Add the wet ingredients to the dry ingredients a little at a time until thoroughly blended together.
Step

3
Roll the dough into small balls, about 1 inch in diameter. Place the cookies close together on the baking sheet. Flatten with a fork or the bottom of a tablespoon or glass. Bake about 20 minutes or until golden brown. Cool on a wire rack. Store leftovers in an airtight container in the refrigerator.