How to Housebreak a Puppy Without a Crate
by Kimberly Caines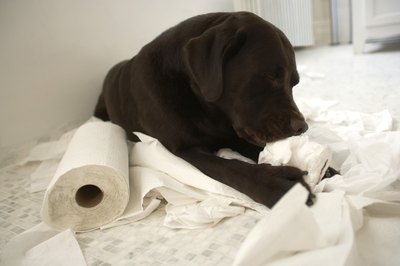 If you think that confining your puppy to a crate seems cruel and mean, think again. When used correctly, a crate is your pet companion's safe haven -- you can have him sleep, play and travel in it, all while keeping him from getting in trouble and destroying your home. A crate can also help in the housebreaking process. If you haven't gotten your pup a crate yet, there are other things you can do to keep your pup from leaving wet and smelly surprises all over the house. With consistency and patience, your pet companion can be housebroken in no time.
Step

1
Put your puppy on a schedule so it becomes predictable when you walk, feed and play with him. Regular feedings result in regular elimination. Walk him at least every two hours, including after waking up in the morning, after playing, after eating and before and after confining him.
Step

2
Supervise your pet companion while he's roaming the house. Watch him like a hawk and when you catch him circling, sniffing or pacing, bring him to his designated potty area outside, because these are signs that he's about to go potty. Say "go potty," and wait so he can do his business in the designated area. Give him a treat and hug immediately after he eliminates. Repeat this tactic each time you suspect that he needs to go potty. Alternatively, use an indoor potty area, such as a puppy pad or newspapers, if you're trying to paper-train your pup.
Step

3
Stop your puppy in his tracks when you catch him eliminating in an unwanted area indoors. Clap your hands or stomp your feet and firmly say "na-ah." This will stop him from further eliminating. Immediately bring your puppy to his outdoor or indoor designated bathroom area and tell him to "go potty." Reward him after he finishes eliminating.
Step

4
Confine your pet companion to a small pet-proof area of the bathroom, kitchen or laundry room when you can't watch him for a short period of time. Use your puppy's age in months as a guideline -- a 2-month-old puppy can hold his bladder for two hours; a 3-month-old puppy can hold his bladder for three hours. Use a baby gate to block off the area and ensure that the space you confine him to is large enough so he can stand upright, lie down and turn around. Alternatively, use a large box.
Step

5
Confine your puppy to a larger pet-proof area, such as the kitchen, if you're going to be away for a long period of time. Spread several layers of newspaper on the floor on one side of the confinement space to act as a potty area. The area has to be large enough so your puppy can sleep and play at a distance from his potty area -- dogs dislike soiling the area that they eat, sleep and play in.
Items You Will Need
Dog treats
Puppy pads or newspapers
Baby gate
Tips
For entertainment, provide your puppy with plenty of toys when you confine him.

If you don't want to paper-train your pet companion, but are forced to confine him for a long period, have a neighbor take him for a walk.

Clean any accidents your puppy has with an enzymatic cleanser to ensure you get rid of the smell of your dog's poop or urine. If the scent lingers it can motivate your pet companion to go potty in the same area again.
Photo Credits
Chris Amaral/Photodisc/Getty Images