ID Collars With an Elastic Band for Dogs
by Deborah Lundin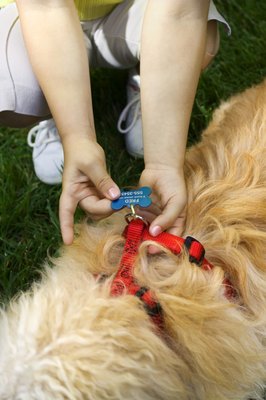 If your dog does not wear a collar because he has a secure backyard or only wears a collar or harness for walks, his safety is always an issue. Despite your best care, Fido may still find a way to get loose and explore. ID collar helps those who find him return him home. Elastic band IDs are comfortable and easy to make at home.
Step

1
Measure your dog's neck with the tape measure. Add an additional inch to this measurement to allow for sewing. Cut a piece of elastic, in ribbon form, to this measurement.
Step

2
Lay the elastic ribbon out on a flat surface. Using a permanent fabric marker, write your dog's name and a contact phone number in the center of the elastic ribbon. For a fancier collar, you may choose to use embroidery thread and needle and sew, by hand, the name and phone number.
Step

3
Overlap 1/2 inch of each end of the ribbon to form a circle, with the information on the outside. Do not let the elastic twist. Using a needle and thread, sew the two ends together to secure the collar. Slip the ID collar over your dog's head.