How to Make a Calming Spray for Dogs
by Susan Dorling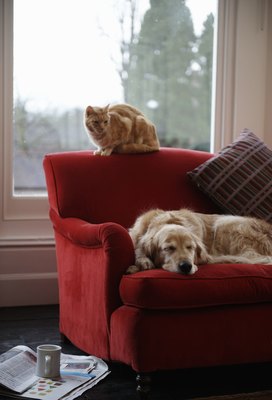 Overactive or hyperactive dogs are often bouncy, anxious characters who are busy as bees. If you think your dog could use a little relaxation now and then, whip up this simple, calming spritz that will have him chillin' out in no time. It also makes him smell fresh between baths.
Step

1
Combine all the ingredients in the mixing bowl. Whisk until well blended. Pour into the storage container.
Step

2
Measure a small amount of the mixture into the spray bottle. Shake well. Spray onto your hands and massage into your dog's neck and chest.
Step

3
Mist the spritz into the air. Spray onto your dog's bedding. Store the leftover spritz in a dark place.