How to Make Cute Dog Clothes for Girl Dogs
by Betsy Gallup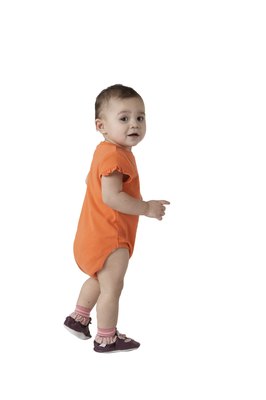 Whether your furbaby needs clothes for warmth or just fancies herself as a fashion diva, you can supplement her wardrobe with cute dog clothes on a budget. Use a onesie and fabric scraps to make a small dog a ruffled T-shirt dress that stretches to make it easy to dress your pet.
Step

1
Dress your dog in the onesie with any applique or graphic on the dog's back. Gently mark where you want to cut the onesie off, then take the garment off your pet. The cut will be about two-thirds of the way down the length of your dog's torso. You want to leave the onesie long enough to attach the skirt but short enough that your dog can relieve herself without wetting the fabric. Turn the onesie inside out and use the ruler and pencil to trace a line across the area that you want to cut off. Cut along the line drawn. Hem the raw edge turning under the raw edge a quarter-inch and using a running stitch through both layers of fabric.
Step

2
Measure the width of the onesie from one side seam to the other, then visualize where you would imagine a dog's waist to her rump. Use the pencil and ruler to lightly mark the waistline on the onesie. This is where you will attach the skirt. To make the skirt, cut a piece of fabric one and half times the width of the onesie by the length to the rump. Cut a piece of ribbon the width of the onesie plus a half-inch. Cut a piece of lace the width of the fabric. The goal is for the skirt to cover your dog's back and leave her rear underside bare, so she doesn't trip on the skirt or wet on her outfit when she goes potty.
Step

3
Hem the skirt fabric on three sides, leaving one of the longest edges unhemmed. Stitch the lace along the bottom hem.
Step

4
Run a basting stitch along the unhemmed edge a quarter-inch from the edge, then gather to the width of the onesie. Attach the wrong side of the skirt to the right side of the onesie at the waistline. Be careful to sew through only one layer of the onesie. Press along the gathered edge.
Step

5
Pin the ribbon over the gathered edge of the skirt and pin in place. Turn under a quarter-inch on each end. Stitch along all four sides of the ribbon close to the edge. The ribbon should cover the raw edge of the skirt and give the illusion of a skirt waistband.