How to Make Dog Kibble With Fruit & Vegetables
by Lori Lapierre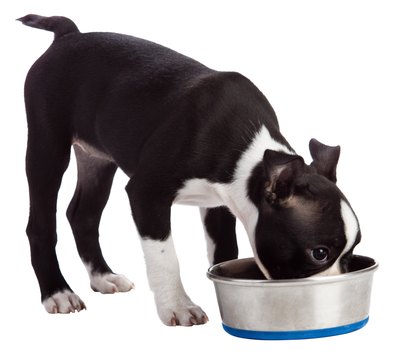 Concerned for their pets' health and safety, many dog owners are choosing to make kibble at home. The process is similar to baking a homemade cake; jazz up basic batter with vet-approved fruits and veggies to cater to your dog's nutritional needs and personal tastes.
Step

1
Wash the fruits or vegetables in clean water. Rinse and pat dry with a clean dish towel.
Step

2
Apply a coat of baking spray to the cookie sheet and set it aside. Preheat the oven to 400 degrees.
Step

3
Chop the fruits or vegetables into chunks and place them in the food processor. Puree the ingredients until the mixture is smooth.
Step

4
Place the flour, powdered milk and cornmeal into a mixing bowl. Use a wooden spoon to stir the dry ingredients.
Step

5
Pour in the beaten eggs and stir the mixture thoroughly. Add water, puree, oil and peanut butter. Stir the ingredients until they are completely combined. The batter should not be thick; if necessary, add a bit more water to compensate.
Step

6
Scrape the mixture onto the cookie sheet. Place the sheet in the oven and bake the kibble batter for 30 to 35 minutes. It should be brown and firm to the touch when done.
Step

7
Allow the kibble to cool on the tray completely before breaking it into smaller pieces suitable for your dog's size. Store the dry food in airtight containers up to five weeks.