How to Make Dogs Lie Down
by Liza Blau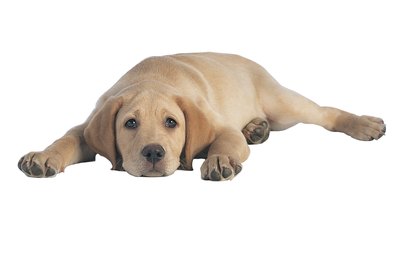 Sometimes you wish your high-energy pooch would just chill out and lie down. It may be when he's playing too rambunctiously or jumps all over the dinner guests the moment they step through the front door or becomes overly-excited at the sight of another dog while you're taking him for a walk. The good news is you can train him to lie down by teaching him to associate a command with positive reinforcement.
Step

1
Begin with your pup sitting down.
Step

2
Say your pooch's name and then "Down" or "Lie down." Don't yell or give the command in an angry tone. Keep your voice firm, but non-threatening.
Step

3
Get his attention by waving a yummy treat at the level of his nose. Hold it close enough so he can smell it.
Step

4
Lower the treat until it's between Fido's paws and slightly above the ground. Slowly pull it away from him, as though you're tracing an invisible line across the floor. As the hungry guy continues to follow the treat, his head will drop and he'll get into the "Down" position. If he only lowers the top half of his body to the ground, pull the treat forwards or backwards until his entire body is lying down.
Step

5
Reward the good boy with the treat and positive words when he successfully lies down. Pet and praise him. With practice, your four-legged pal will learn to associate the command with the reward of a delicious treat once he obeys.
Tips
If your pup doesn't follow the treat with his nose, try another piece of food that might entice him more, such as cheese or meat.

Short-haired dogs and smaller pups might be hesitant to lie down on cold ground. Try training those dogs on a bed, carpet or couch.

Practice the "Down" command for a few minutes each day until your furry friend gets the hang of it. Remember to always reward him with praise and the treat.
Photo Credits
Comstock/Comstock/Getty Images