How to Make Easy Simple Homemade Dog Treats on the Go
by Susan Dorling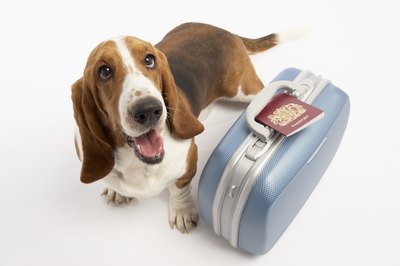 A dog treat that travels well is a snap with this nutritious trail mix you prepare in advance and package in individual travel-sized portions. Or, simply buy the ingredients on the go, mix them together in a ziplock bag and shake. Voila, instant treat your pooch will adore.
Step

1
Write the date on the labels with a list of the ingredients. Affix the labels to the small ziplock bags.
Step

2
If you are preparing the mix in advance at home, combine all the ingredients together in a large bowl. Mix until thoroughly blended. Scoop the mix into the small ziplock bags. Pack as many portions of the trail mix as you think you'll need for your trip. Store the rest of the trail mix in the cupboard for your next trip.
Step

3
If you are making the trail mix on the go, purchase the dried fruits, nuts, sunflower seeds and carob chips, readily available in the baking section of most grocery stores or any health food store. Add all the ingredients to the large ziplock plastic bag. Shake to distribute the ingredients evenly throughout.
Step

4
Serve your dog small amounts at a time by hand. For rewards, serve individual pieces, such as a piece of diced apricot, a banana chip, a peanut or carob chip. It's a tiny treat that teaches your dog to take food gently from your fingers.