How to Make Oatmeal Rice Dog Food
by Elle Di Jensen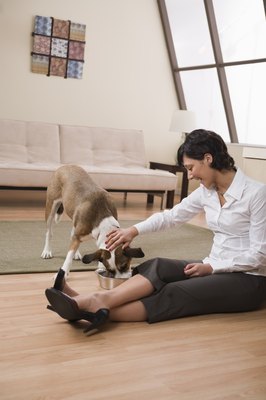 When you make your best friend's meals from scratch you ensure she's eating nutritious, quality food. Oatmeal and rice are wholesome ingredients you can include in a dish of homemade food for your pup. They're both sources of carbs, and they both contain important nutrients such as manganese, selenium and magnesium. Oatmeal also has phosphorus and zinc, and it's a source of fiber.
Step

1
Turn the oven to 400 degrees Fahrenheit to preheat.
Step

2
Grease a muffin tin with cooking spray.
Step

3
Combine carrots, celery, green beans, turkey and eggs in a mixing bowl. Stir with a spoon to combine all the ingredients well.
Step

4
Add rice, olive oil and oatmeal to the mixture and stir well to incorporate it all together.
Step

5
Divide the dog food mix evenly among the prepared muffin cups, pressing the tops down with the back of the spoon to pack the mixture firmly.
Step

6
Place the filled muffin tins into the preheated oven and bake for 45 minutes.
Step

7
Remove the muffin tins from the oven and allow them to cool for 10 minutes before turning them over to release the meaty muffins onto the countertop or a plate.