How to Make Vet Recommended Dog Food
by Deborah Lundin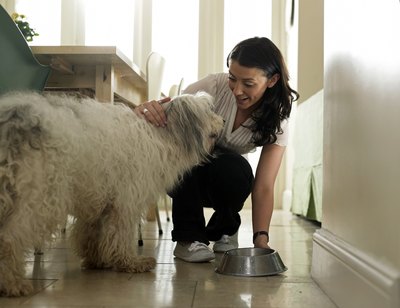 Making food for your dog at home that matches the nutritional needs recommended by your vet is possible, but it takes planning and regular communication. Your dog's nutritional needs are different from yours and you need to make sure you are feeding him the right foods and supplements if needed. With some time and education, it is possible to provide a balanced diet from your kitchen.
Step

1
Begin by talking with your veterinarian about your dog's dietary needs. Let him know that you would like to feed your dog natural and homemade meals. If your dog has any medical conditions, he can address these and help create a diet with them in mind. For example, if your dog has digestive issues, a low residue diet may be required. Go over your dog's nutritional needs with the vet. Find out what percentage of the diet should be protein, fat, carbohydrates, fruits and vegetables.
Step

2
Together with your vet or a dog nutritionist, plan out a daily diet and menu. Your vet will be able to tell you if the foods you plan to make will meet your dog's nutritional needs or if vitamin supplements are required.
Step

3
Learn what foods are not safe for dogs. For example, raisins, grapes, chocolate, garlic, onions and even salt can be toxic to your dog. Adding one of these ingredients may come naturally to you when cooking but their addition to your dog's food could cause health problems.
Step

4
Thoroughly cook all meats to their recommended temperatures. Raw or under-cooked meats increase the risks of salmonella and E. coli.
Step

5
Monitor your dog's weight on a regular basis. This is especially true when you first begin a homemade diet. Your vet will want to make sure that your dog is getting enough calories to maintain a healthy weight.