Making Homemade Crunchy Dog Food
by Susan Dorling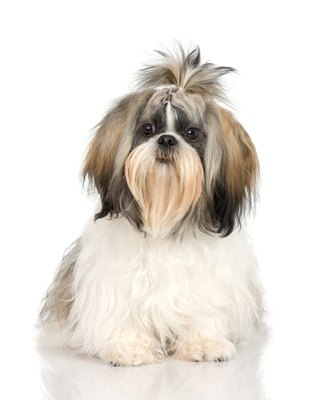 Your dog is family, she deserves the best. Spoil her with this nutty grrrranola breakfast featuring the crunchy goodness of pecans, sunflower seeds and oats, and drizzled with raw, organic honey and vanilla. It's a heavenly concoction your canine companion will love to wake up to.
Step

1
Preheat the oven to 325 degrees Fahrenheit. Combine honey, oil and vanilla in the small saucepan and gently heat on a low setting.
Step

2
Combine the cracked wheat, rolled oats, corn- or bran flakes, wheat germ, sunflower seeds and pecans in the large mixing bowl. Pour the honey, oil and vanilla mixture over the dry ingredients. Mix thoroughly until all the dry ingredients are coated in the honey mixture.
Step

3
Turn out the granola onto the greased baking sheet. Bake for about 15 minutes, stirring occasionally to prevent overcooking, until the granola is a light, golden brown. Cool completely and serve. Store leftovers in the refrigerator.