How to Prepare Sweet Potatoes for Dog Treats
by Susan Dorling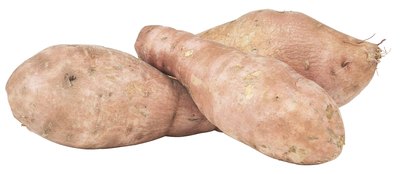 Rich in antioxidants and anti-inflammatory nutrients, yummy sweet potatoes also help stablize blood sugar levels and lower insulin resistance in dogs, according to animal studies. Packed with vitamins A, C, B6, manganese, copper, potassium, iron and fiber, these glorious orange veggies are easy to prepare for homemade dog treats.
Step

1
Wash and peel the sweet potatoes. Cut into cubes or slices. Place in the pot and cover with cold water. Bring the water to a boil, then cover and reduce the heat to medium-low. Cook until the potatoes are fork tender, about 20 to 30 minutes.
Step

2
Turn off the burner when cooked and remove the pot from the stove. Drain the sweet potatoes, and place the pot back on the still warm burner to eliminate excess moisture. Mash with the potato masher until smooth.
Step

3
Add a dash of ground cinnamon and mix until smooth. Let the potatoes cool, then add to your treat recipe.