Stew With Beef Chunks for Dogs
by Madeline Masters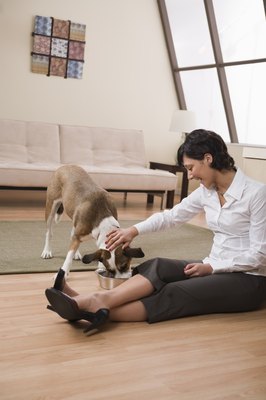 If you enjoy cooking homemade dog food or want to treat your dog to a special dinner, beef stew is an affordable and delicious choice. With succulent chunks of beef added to a healthy stew, your dog will be happy and satisfied! This recipe can also be modified to suit your available ingredients and dog's tastes.
Making a Chunky Beef Stew for Your Dog
Step

1
Brown the beef chunks on all sides in a large nonstick pot on medium heat.
Step

2
Sprinkle the beef chunks with the flour and stir until flour absorbs rendered fat from meat.
Step

3
Pour beef stock slowly over meat. Add rice, bring to a boil, then reduce to a simmer.
Step

4
Add remaining vegetables to stew. Stir and simmer, covered, for one hour or until meat is tender and liquid is thickened to the desired consistency.
Step

5
Serve stew warm, not hot. Refrigerate leftovers and reheat gently before serving.