How to Stop a Dog From Rolling in the Grass
by Kimberly Caines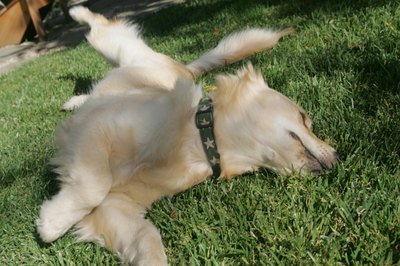 If Fido has developed a grass-rolling habit, you might find yourself constantly bathing and grooming him to get rid of foul odors and other yucky stuff stuck to his coat. Although it might look like he's enjoying a back massage, this behavior stems from his ancestors -- they rolled in smelly stuff to mask their scent so they could divert their predators and get closer to their prey without their scent giving them away. To avoid having to clean a dirty, stinky dog, teach Fido right from wrong -- you'll spend less time cleaning your pet companion and more time enjoying him.
Step

1
Arm yourself with dog treats and a shaker can, put your dog on a long training leash and go for a walk outside.
Step

2
Observe your dog closely and when he starts sniffing one area for too long or looks like he's about to drop and roll, say "come," and reel him in a little. If he doesn't come, reel him in some more until he listens and comes to you. Give him a treat to reinforce the good behavior. Consistently repeat this tactic so you develop a good recall and get your dog to come even when he's not on a leash.
Step

3
Shake the can of coins and say "stop" or "leave it" if your pet companion starts rolling in the grass when he's nearby. Alternatively, drop the can of coins on the grass in front of your dog. The noise will startle him and interrupt his grass-rolling behavior. After he stops rolling and is standing upright, give him a treat to reward his good behavior. Use the shaker can each time you catch your dog in the act.
Step

4
Keep your dog busy when you're walking him so he doesn't have time to even think about rolling in the grass. Play a game of fetch or tug-of-war or go jogging with him.
Step

5
Use a fragrance-free dog shampoo and conditioner when you bathe your pet companion. Your dog might be rolling in the grass to get rid of the fragrance of the products you use to clean him -- he might feel that they mask his dog scent.
Items You Will Need
Dog treats
Shaker can
Training leash
Fragrance-free dog shampoo and conditioner
Tip
To make a shaker can, put about 20 coins or small stones in an empty soda can and seal the can opening with a piece of sticky tape.
Photo Credits
Jupiterimages/Comstock/Getty Images