Dog-Friendly Parks in Georgia State
by Maura Wolf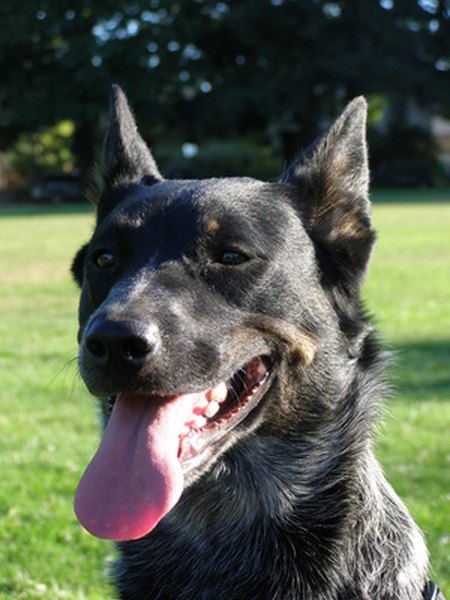 Georgia's many dog parks come in all sizes and are located in cities, suburbs, small towns and major metropolitan areas. Most are between 1 1/2 and 4 acres and open to the public as long as the dogs are healthy, socialized and well-behaved, and the people are responsible, attentive and willing to pick up after and manage their dogs. According to an article on Dog-On-it-Parks.com, "dog parks help build strong community and social ties and are fantastic places to meet neighbors and other interesting dog owners."
Waggy World Paw Park
The City of Alpharetta Recreation and Parks Department manages Waggy World Paw Park, a 1 1/2-acre dog park behind the Alpharetta Community Center at Wills Park that provides a safe place for people and dogs to gather daily from 8 a.m. until sunset. The small dog park is limited to dogs weighing 25 pounds or less; the large dog park is open to dogs of all sizes.
Waggy World Paw Park's stated mission is to provide an off-leash fenced park where dogs can exercise and play without "endangering or annoying people, property or wildlife," and to maintain an attractive space open to everyone willing to uphold the park's rules and regulations.
Waggy World Paw Park
175 Roswell St.
Alpharetta, GA 30009
678-297-6100
alpharetta.ga.us
Wiggley Field
Wiggley Field is a dog park at Southeast Clarke Park managed by the Athens-Clarke County Leisure Services Department. Wiggley Field offers two dog parks in one, with one area designated for small dogs and another for large dogs. The 2-acre park has a double water fountain, with a traditional-sized drinking fountain for humans and a smaller dog-sized fountain for canines. There are bleachers for humans to sit on, free dog waste pickup bags, restrooms, a wooded area to explore and nearby on-leash trails. Wiggley Field also has a separate fenced dog run with agility equipment. The dog park is open from 8 a.m. until sunset.
Wiggley Field Dog Park
Southeast Clarke Park
Whit Davis Road & Meadow Creek Drive
Athens, GA 30605
706-613-3871
accleisureservices.com
Piedmont Park Dog Park
Open since 2002 and renovated in 2010, Piedmont Park Dog Park is Atlanta's first off-leash dog park. It features a 3-acre dog run, separate enclosures for large dogs and small dogs weighing less than 30 pounds, benches and restrooms for people, and new landscaping with climbing rocks and walking trails. Although a City of Atlanta ordinance requires all dogs in public areas to be leashed, this park is one of the city's few locations where dogs may run free. Cleaning up after your pet is one of the many rules and laws associated with the park, and waste bags are provided.
Piedmont Park Dog Park is dependent on donations and volunteer efforts, so if you and your dog spend time at the park, you might want to join the Leash-Free Alliance of Piedmont Park (LAPP), a volunteer group that recommends necessary dog park improvements and works with the Piedmont Park Conservancy on fundraising and cleanup projects. The dog park is located at the Park Drive Bridge in Piedmont Park, which is open from 6 a.m. to 11 p.m.
Piedmont Park Dog Park
1071 Piedmont Ave.
Atlanta, GA 30309
404-876-4024
piedmontpark.org
Ronald Reagan Park
Ronald Reagan Park, in Lawrenceville, is Gwinnett County's first "passive community park," which means there are no sports fields, large parking lots or bright lighting. It is also the site of the county's first dog park, a 2-acre fenced-in space where dogs can run and play without a leash. This park has three separate enclosed areas: one for big dogs, one for small dogs and one that, according to the Georgia Doodle Owners Group, "spans the back of both, which is nice and long, for dogs to really let loose and run." The small and large dog areas have doggie water fountains and agility equipment. The park is open from 7 a.m. until dusk.
Ronald Reagan Park
2777 Five Forks Trickum Road
Lawrenceville, GA 30044
770-822-8840
gwinnettcounty.com
Photo Credits
Happy dog in the park image by Lucki13 from Fotolia.com