How to Make a Hard, Long-Lasting Dog Biscuit
by Susan Dorling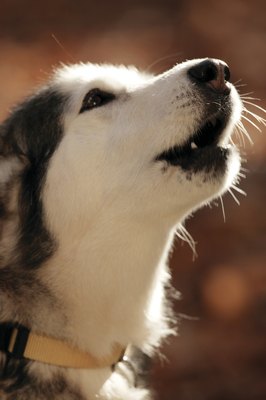 Home-baking biscuits for your dog ensures he's getting wholesome, natural ingredients in his treats. Making them hard and crunchy exercises and cleans his teeth and gums. Made with ingredients such as old-fashioned rolled oats, safflower oil, honey and herbs, these biscuits are especially nutritious, and they have a long shelf life.
Step

1
Preheat the oven to 350 degrees Fahrenheit. Crack the eggs into a large bowl. Wash the empty egg shells in warm water until all of the egg white is removed, leaving the membrane in place. Air-dry the shells on a piece of paper towel, then break them into small pieces and grind them in a coffee grinder or nut mill, or place them in a plastic zip-top bag and use a rolling pin to grind them.
Step

2
Combine the oats, buckwheat flour, whole wheat flour, dried parsley, dried rosemary and ground egg shells in the large mixing bowl and mix well. Add the boiling water, safflower oil, molasses and honey. Mix to form a sticky dough.
Step

3
Roll the dough out on a lightly floured surface to about 1/4 inch thick. Place the dough on a parchment-paper-lined baking sheet and bake for about 30 to 45 minutes or until lightly browned, then turn off the oven. Score the dough into squares with a knife or pizza cutter, then place them back in the oven. Leave them overnight to make them harder.