How to Make Homemade Dog Food & Proportions According to Weight
by Susan Dorling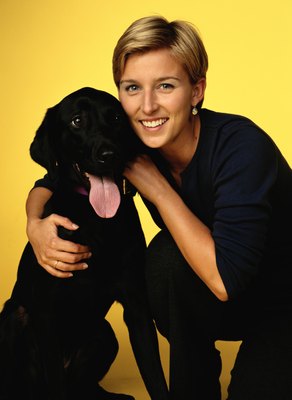 Rotate your homemade dog food recipes using different protein sources, grains and vegetables for their specific vitamins, minerals and amino acid composition. Oats are a good basic choice and ground meats are convenient -- just add veggies and supplements. This basic recipe is a simple starting point for your creativity.
Step

1
Bring 16 cups of water to a boil. Add the oats, cover and turn off the heat. Let the oats cook for 10 to 15 minutes, or until soft -- do not stir. Remove from the stove and let cool completely.
Step

2
Peel and dice carrots, then place in a saucepan. Cover in water and bring to a boil. Cook the carrots until fork tender, remove and let cool.
Step

3
Fold the cooked carrots, olive oil, vitamin E, bonemeal and health supplement powder or multivitamin into the oatmeal. Scoop the daily ration into your dog's serving dish: toy (2 to 15 pounds) 2/3 to 2 2/3 cups; small (15 to 35 pounds) 2 2/3 to 5 1/3 cups; medium (35 to 55 pounds) 5 1/3 to 7 cups; large (55 to 85 pounds) 7 to 9 3/4 cups; giant (85 to 165 pounds or more) 9 3/4 to 14 2/3 cups