How to Make a Natural Dog Diet at Home
by Susan Dorling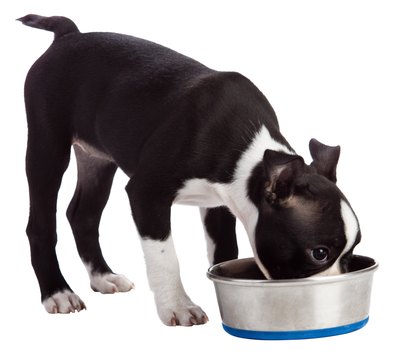 Preparing a natural, homemade diet for your dog is more involved than opening a bag of kibble, but according to homeopathic veterinarians like Dr. Richard Pitcairn, it greatly enhances your dog's quality of life. This is just one of many natural dog food recipes you can prepare at home.
Step

1
Mix the yeast, lecithin granules, kelp powder, powdered eggshells and sodium ascorbate together in the 1 quart container. Place 6 rounded tablespoons of this mixture into the large mixing bowl, and store the rest of the powder in the refrigerator for future meals.
Step

2
Peel and cube the sweet potato, then cook for about 20 to 25 minutes until tender. Remove from the heat, drain and mash with the potato masher, ricer or a fork. Peel and dice the carrots. Chop the alfalfa sprouts into small pieces. Set the vegetables aside.
Step

3
Bring 10 cups of water to a boil in the large pot. Add the oats and cook for 10 to 15 minutes until soft. Do not stir or the oats will become mushy. Pour the oats into the mixing bowl, then add the ground beef, vegetable oil, vegetables, bone meal, vitamin E and garlic. Gently combine all the ingredients without stirring. Turn the mixture out on a platter or baking sheet to cool. When completely cool, serve your best friend the following daily ration based on his size: toy -- 1 to 2 cups; small -- about 4 cups; medium -- about 6 to 7 cups; large -- about 8 cups; giant -- 9 or more cups.